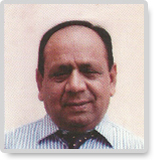 Davindar Kumar
President

I am pleased to present the sixteenth edition of DCC TRADE DIRECTORY 2016- 17'
The Make in India initiative has been launched by our Hon'ble Prime Minister. The main focus of the initiative is on reviving the manufacturing sector and increasing the sector's contribution to national economy, which has been stagnant for quite some time. At present India is a big importer of finished goods in various sectors, which is matter of concern because we export large amount of raw material required to produce these goods. So why not we promote technical excellence, with skill enhancement in our workers and build world class products for our own consumption as well as for export. The Chamber since its inception has all along during the presidency of various eminent Industrialist had taken up the challenge to see that the export of the goods manufactured in Indian industries find a special place in the international market.
The Delhi Chamber of Commerce has prepared the DCC Trade Directory wherein it has incorporated details and particulars of its members all over the country showing the World Class Goods/Merchandise in which they deal and export through out the world.
This directory will provide valuable information to the Industry, Trade and Commerce. The directory also contains complete information in respect of Embassies/High Commission of the various Countries in India, Indian Embassies/High Commissions Abroad, Export Promotion Councils in India, Custom House Agents in Delhi and the various Chambers of Commerce spread all over the world.
I hope that this Trade Directory will be of immense use as a reference book to be used by Industry & Business Community and help to develop and promote International Trade & Commerce between India and other Countries of the world.